Despre Advanced TRS
Advanced TRS este prescurtarea pentru "Advanced Toxin & contaminants Removal System".  
TRS este un Clinoptilolite zeolite (produs in laborator) si este legat de apa. Advanced TRS este produs de compania americana Coseva LLC. 
Clinoptilolite zeolite este denumirea chimica a substantei active din Advanced TRS. Este o molecula inerta in organism, insa metalele grele, elementele radioactive si toxine diverse sunt atrase de structura zeolitului. Deoarece zeolitul este incapsulat in apa, va avea acces acolo unde are si apa, in tot organismul. TRS are forma unei custi/capcana si este unul din putinele minerale din natura care are o sarcina negativa.
Este o combinatie de minerale care ii permite zeolitului sa captureze metale grele ce au o sarcina electrica pozitiva (mercur, plumb, cadmiu, aluminu, bariu, thoriu, cadmiu, uraniu etc). TRS le va elimina ulterior din organism. O data ce toxinele sunt capturate in interiorul structurii zeolitului este aproape imposibil sa rupa legatura electro-chimica, sunt necesare temperaturi de peste 900° F pentru ca acest lucru sa aiba loc. Deci, o data absorbit in interiorul custii zeolitului, metalele sunt eliminate si nu pot fi depozitate in alte arii din corp.
sursa foto Coseva LLC 
Chelarea cu Advaced TRS difera de alte forme de chelare, deoarece o data ce metalele grele sunt absorbite in interiorul moleculei de zeolit (nu adsorbite pe suprafata externa a moleculei) si deci sunt in interiorul campului electric negativ al zeolitului, metalele sunt neutralizate electric si nu pot produce distrugeri in tesuturile inconjuratoare in timpul procesului de eliminare. Astfel, procesul chelarii poate fi realizat mai repede decat alte forme de chelare.
Advanced TRS actioneaza rapid si este complet eliminat din circulatie in 5-7 ore. TRS este eliminat prin procese fiziologice si datorita neutralizarii si eliminarii metalelor grele reduce povara metabolica la nivel hepatic si renal. TRS este atat de mic (nano) ca nu este necesara filtrarea lui la nivel renal. 
Diferenta intre Advanced TRS si carbune medicinal activat este ca Advanced TRS nu adsoarbe nutrientii asa cum se intampla cu carbunele activat, si in plus fiind o molecula hidrosolubila poate ajunge oriunde in organism, ceea ce carbunele activat nu are cum, acesta fiind activ doar la nivel intestinal.
Informatii detaliate despre zeoliti si clinoptilolite 
https://www.ncbi.nlm.nih.gov/pmc/articles/PMC3546016/
Foto – Structura microporoasa a cristalului de clinoptilolite.
Administrarea de Advanced TRS este complet sigura si non-toxica 
"Critical Review on Zeolite Clinoptilolite Safety and Medical Applications in vivo" – https://www.ncbi.nlm.nih.gov/pmc/articles/PMC6277462/
"In agreement with the scientific evidence presented in the literature so far, it can be generally stated that clinoptilolite-based materials, including the so-called activated materials, may be regarded as safe for in vivo consumption. A variety of highly positive effects on animal and human health were documented thus far for clinoptilolite-based materials. Due to clinoptilolite's remarkable ion-exchange and adsorption properties and consequent detoxifying effects, it has proven useful in the elimination of a variety of contaminants from the body or in amelioration of the intestinal status. "
 Indicatii de utilizare
Administrarea de Advanced TRS are urmatoarele beneficii:
elimina in mod natural metale grele cu sarcina electrica pozitiva (mercur, plumb, cadmiu, aluminu, bariu, thoriu, cadmiu, uraniu etc)
echilibreaza nivelul pH prin captarea protonilor in exces (H+) pentru a aduce pH-ul sanguin la nivel optim
stimuleaza functia imuna
este selectiv in eliminarea de amoniac (Ref. 3)
intrucat persistenta H.pylori depinde de prezenta amoniacului la nivel gastroduodenal, indepartarea amoniacului are un efect antibiotic fata de H.pylori, efect sinergistic cu administrarea de amoxicilina (Ref. 3).
Nanotehnologie
Nano inseamna ca particulele sunt foarte mici.
Pentru TRS, dimensiunea medie a spatiului liber central este de 0.7 – 0.9 nanometri. 
sursa https://www.coseva.com/wp-content/uploads/2020/10/CM000015583-Nanoshell.pdf
TRS este o formula patentata de clinoptilolite: (Na,K,Ca)2-3Al3Si15O36·12H2O
Coseva foloseste echipament de masurare a particulei standard pentru a asigura puritatea, marimea si saturatia produsului zeolit in apa.
Prin formarea unei suspensii coloidale unde zeolitul este tinut intr-un cluster de apa, zeolitul este capabil sa traverseze bariera hemato-encefalica.
Toxicitatea metalelor grele in organism
Noi inghitim metale grele si alti contaminanti din sursele de expunere de zi cu zi, precum aerul pe care il respiram si mancarea pe care o consumam. 
Advanced TRS permite o chelare selectiva a metalelor grele, verificata prin Atomic Absorption Spectroscopy:
Hg > Pb > Sn > Cd > As > Al > Sb > Fe > Ni.
Studii clinice in volunari: crestere a eliminarii urinare de 5-7x in prima saptamana.
Studii clinice la mineri de carbune: crestere a eliminarii urinare de 12-15 ori.
Mai jos sunt certificate de calitate pentru compozitia Advanced TRS testat la laborator independent.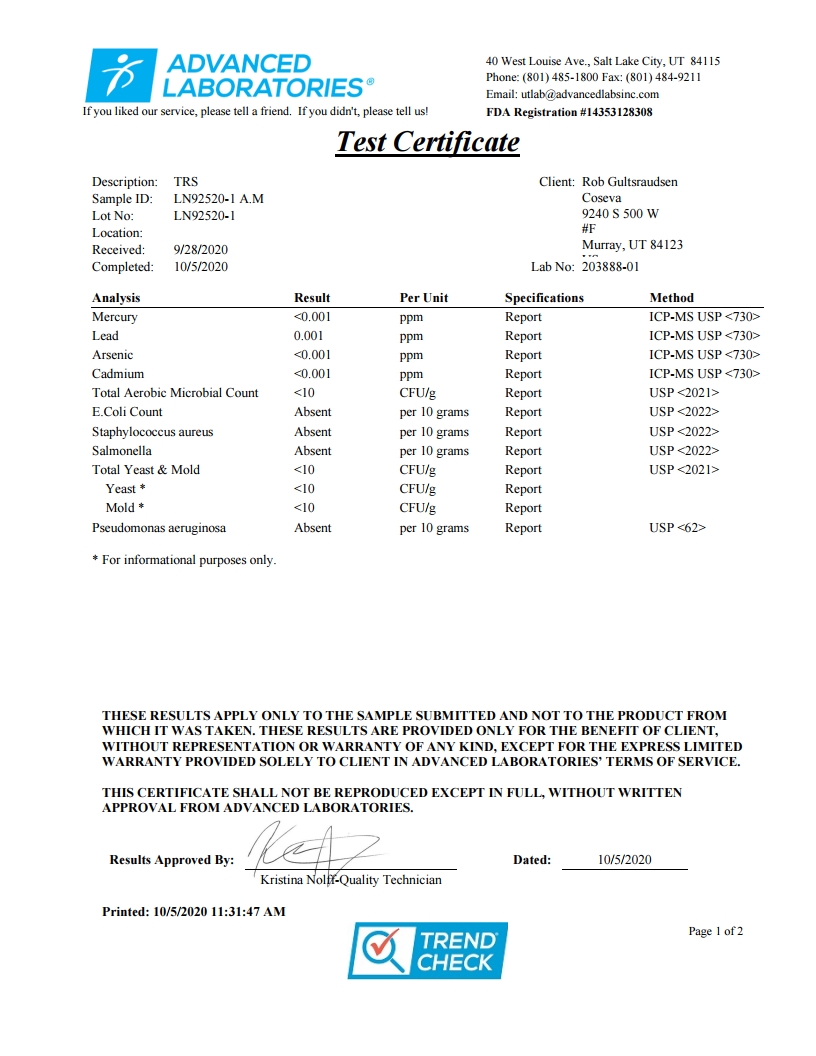 Testare independenta a compozitiei ADVANCED TRS – Covalent Metrology, California
Despre importanta structurii moleculei de clinoptilolite, a site-ului activ molecular – interviu cu Dr Agnes Ostafin 
Modalitati de achizitie
Advanced TRS se poate cumpara direct de pe website-ul producatorului Coseva LLC, din SUA, folosind link-ul direct al unui distribuitor.
Costul standard pentru achizitionare
Advanced TRS in flacon de plastic (varianta veche)
– 1 flacon 
* pret la achizitie unica 95USD, 
* pret autocomanda lunara (Preferred Customer Price) 68USD 
– set de 3 flacoane: 
* pret la achizitie unica 170USD,
* 
pret autocomanda lunara (Preferred Customer Price)
150USD 
Advanced TRS in flacon de sticla (varianta noua)
– 1 flacon: 
* pret la achizitie unica 95USD, 
* pret autocomanda lunara (Preferred Customer Price) 68USD 
– set de 3 flacoane: 
* pret la achizitie unica 170USD,
* 
pret autocomanda lunara (Preferred Customer Price)
150USD
Informatii suplimentare
| | | | | |
| --- | --- | --- | --- | --- |
| Advanced TRS Summary Sheet.pdf | Advanced TRS White Paper.pdf | Advanced TRS FAQs.pdf | Advanced TRS, the safest detox method.pdf | Suspensie coloidala.pdf |
Contact
Pentru a facilita discutiile in social media despre avantajele acestui produs, am creat grupul de facebook Chelare cu TRS & CBD.
Puteti lua de asemenea legatura cu mine prin email pe pagina de Contact.
Persoanele interesate in a dezvolta un business de promovare a Advanced TRS pot :
detalia informatiile cuprinse in pagina dedicata de Business Advanced TRS
ma pot contacta direct pe email la office@nutrigenomic.ro pentru suport.
Referinte
Advanced TRS
Average rating:
2 reviews
Sep 28, 2018
Daca imi permiteti, am cateva nelamuriri.
Orice persoana care ia orice fel de zeolit (nu neaparat nano) sau alti chelatori (ex. DMSA) o sa aiba metale grele in urina pentru ca in sange circula cantitati mici de aluminiu, plumb, etc. Asimilarea metalelor in testuri in ani de zile este o posibila cauza a unor probleme de sanatate. Deci studiile despre metalele din urina nu sunt relevante decat daca daca vrem sa folosim acest produs toata viata pentru a preveni depunerea metalelor in tesuturi.
Intrebarea mea este : poate TRS sa extraga metalele si din tesuturi, sau doar din sange?
Ar mai fi de folos daca ati oferi publicului sursele studiilor pe care le citati.
Astept cu interes explicatii. Multumesc.
Buna ziua.Da, TRS elimina metalele grele din tesuturi. Metalele grele sunt prezente in sange si urina doar in orele&zilele imediate dupa expunerea acuta, pe termen lung ele vor fi gasite in diverse tesuturi.O sa adaug mai multe link-uri cu referinte.Multumesc de review.
Sep 25, 2018
chelare eficienta
chelare eficienta